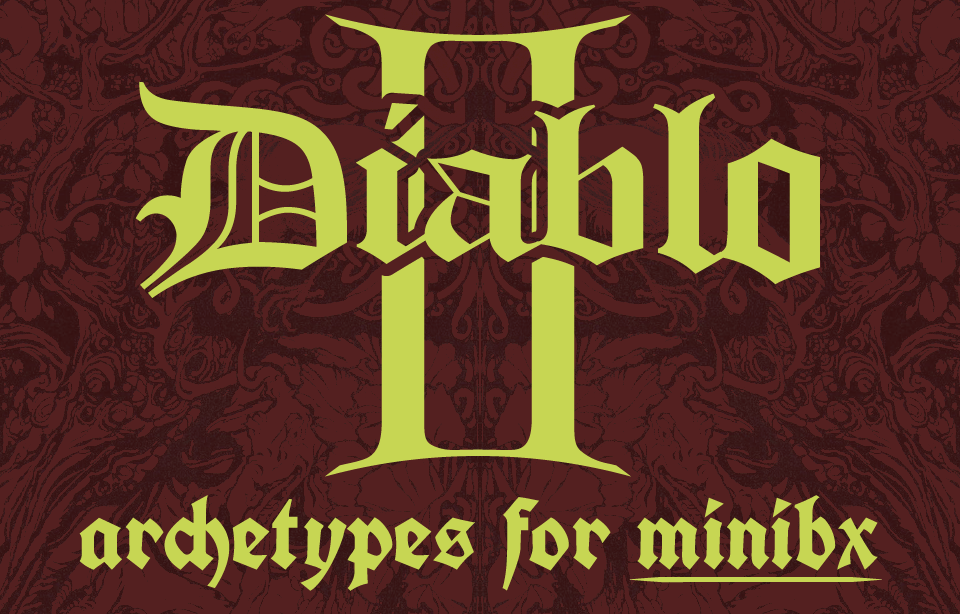 Diablo Archetypes for MINIBX
A downloadable archetypes for minibx
You meet six mysterious travelers on a stormy night...
Six new archetypes for the MINIBX system, inspired by the classic ARPG Diablo II, developed by a nameless company, long lost before time.
These strangers can be used as they are, but they can also be modified or even used as NPCs.
The Sorceress
A powerful magic user, bending the elements of nature to her will. The Sorceress spent as much time studying as she did kicking ass. Make sure to get out of her way before she has to ask you twice.
The Paladin
For some, faith is a shield. In that case, the Paladin wields two shields: the shield of faith, and then a regular shield. A tower of metal and good morals, the paladin is ready to smite his enemies as well as give sermons about his deity.
The Amazon
A defender of her people, the Amazon masters both melee and ranged combat. This seasoned survivor rarely gets lost when traveling, and always seem to find something to hunt. It better not be you.
The Barbarian
His skin so thick most blades can't pierce. His axe so sharp most skulls don't resist. The Barbarian has mastered the art of resisting pain. His cries can rally his allies or put fear into the enemies' hearts.
The Assassin
From the shadows, she plunges. You are dead, and you didn't even notice.
The Necromancer
Himself brought from the kingdom of death, this mystic wields undeath at his fingertips. Frail in his physique, the Necromancer casts spells and calls the dead to fight at his side. For him, the death of his companions is not a problem, so beware.

Download
Click download now to get access to the following files:
Diablo-Archetypes-Minibx
5 MB